This is truly the best Homemade Apple Pie recipe ever! Its flaky, buttery crust is made from scratch, & the apple filling isn't overly sweet, letting the flavor of the apples really shine! Plus this apple pie is easy to make, with only a handful of simple ingredients!
There's nothing more classic than a slice of warm apple pie served with vanilla ice cream! This is truly the best Homemade Apple Pie recipe ever! Its flaky, buttery crust is made from scratch, and the apple filling isn't overly sweet, letting the flavor of the apples really shine!
Plus this apple pie is easy to make! With only a handful of simple ingredients, it's truly a must-make during apple season, or any time of the year!
How do you make Apple Pie From Scratch?
Making this Apple Pie Recipe from scratch is very simple and so rewarding (just like these other from scratch pies: Pumpkin pie and French silk pie)! A few ingredients come together beautifully to make a delicious dessert! Let's walk through the process together, and don't forget ot watch the video!
Make the Apple Pie Crust
I have a full tutorial on making an all-butter pie crust, so if you need some more guidance I highly recommend checking it out! However, I'll walk you through the steps to making this apple pie crust!
I recommend making your crust from scratch because the end result is worlds better than any pie crust you can buy in a store and it only takes 5 minutes! Plus, when you make your own homemade pie crust you skip all the preservatives, additives, and ingredients you cannot pronounce present in store-bought crusts! However, in a pinch you can always use store bought crust, which makes this recipe even easier!
Make the dough
Using a food processor makes the crust-making process so easy. Simply add the ingredients to the container and process for 15-30 seconds. Until the mixture looks like coarse sand (pictured below), and sticks together when it's squeezed. It will easily form into a ball.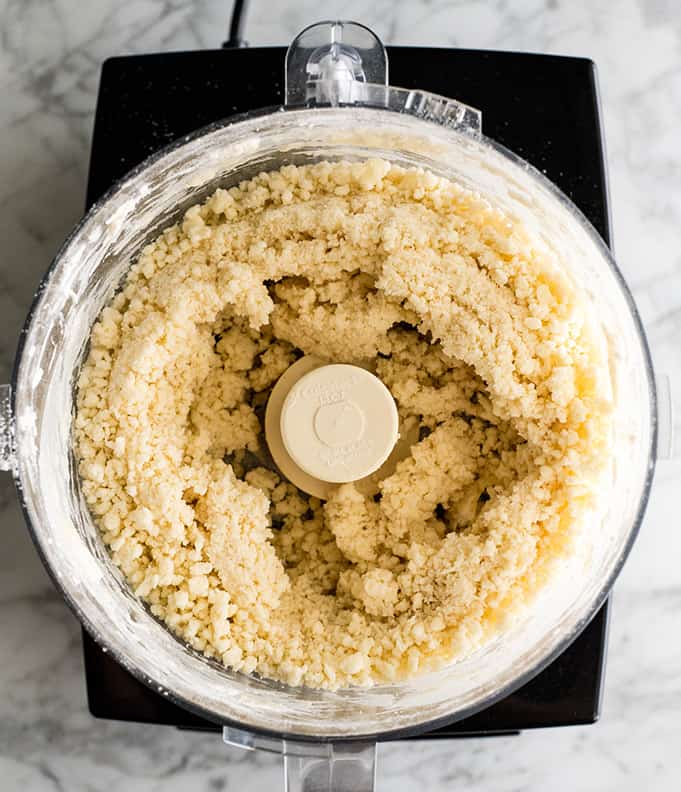 Make two discs & chill
Form the apple pie crust dough into two, equal-sized discs. Wrap them tightly in plastic wrap and refrigerate for at least 30 minutes, or overnight.
If you are chilling the dough overnight or for a long period of time (more than 2 hours), I recommend putting the wrapped apple pie crust into a plastic bag or another airtight container to ensure that it does not dry out.
Roll out the apple pie crusts.
Once you're ready to bake the apple pie, preheat the oven and roll out the dough. You will need to remove the circles from the fridge, place them on a well-floured surface and let them sit at room temperature for about 5 minutes so they're soft enough to roll (shorter if it's a hot day)!
I always use my pie plate to measure the dough to make sure I rolled it large enough! Trim off any excess dough and save it to use later to add to the edges of the crust, or to cut out into fun shapes!
Make the Apple Pie Filling
Towards the end of the crust's chilling time, make the apple pie filling. It's really easy! Start by peeling, coring and finely slicing the apples. I recommend using 10 cups of apples, which is roughly 3.5 lbs, 1500 g, or 7-8 medium/large apples.
Pre-cook the apples
Place apples in a microwave-safe bowl and microwave for 6 minutes. You could cook them on the stovetop, but I find microwaving so much easier. You want the apples to be slightly soft but still firm enough to hold up to stirring.
Drain the water
Transfer the apples to a colander and let them drain and cool. I recommend letting the apples cool while you roll out the crusts, so they have plenty of time to release as much water as possible.
A lot of people ask How do you reduce water in apple pie? Pre-baking the apples and draining them before adding them to the pie is my answer! If you don't do this step, you could end up with a soggy bottom crust and a pie that doesn't set up well!
Add dry ingredients to apples
Start by mixing the dry ingredients together in a small bowl. Transfer the drained apples into a bowl and stir in the dry ingredients until evenly distributed. Set aside while you prepare the pie crusts.
What are the best apples to use for baking pies?
Everyone has their favorite apple variety to bake with, mine is a tossup between Pink Ladies and Granny Smith. However, I usually just choose a variety that's on sale! I love the sweet/tart contrast! Here are some of my suggestions for apples to use in this apple pie recipe!
Pink Ladies (aka: Crisps Pink)
Granny Smith
Fuji
Honeycrisp
Jonagold
Jazz
Braeburn
Gala
Golden Delicious
Shape Bottom Crust and Fill
Shape one of the rolled crusts into the bottom of the pie plate, pinching the edges into the shape you want. Then add the filling and spread it out evenly.

Add top crust
Add the top crust to the apple pie! You can use any design you'd like! Lattice, fun shapes, etc. I took a little bit of the extra dough and cut it out into the shape of an apple and placed it in the middle!
Cut vents!
Just make sure to cut vents in the top apple pie crust to ensure that steam can escape during the baking process!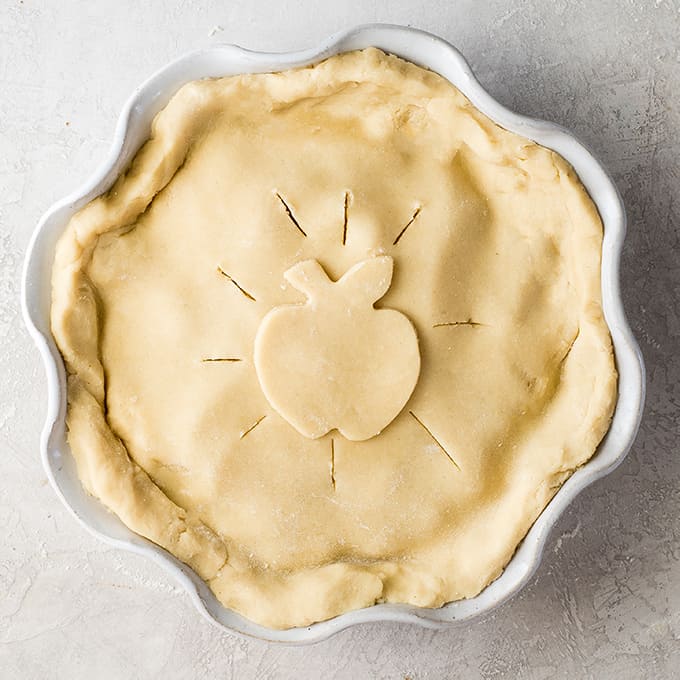 Optional Egg Wash
I've made this apple pie recipe many times. Sometimes I use an egg wash, sometimes I don't (in the video I do not). I find that it doesn't not change the taste of the pie at all, it's only for looks! Here are some benefits of an egg wash:
Golden-brown color
can sprinkle sugar onto crust for an extra sweet crunch
makes a heartier crust
So it's up to you! Obviously if a family member has an egg allergy skip the egg wash! You can also brush the crust with cream or half and half!
Bake!
I know a lot of pie recipes call for baking at a higher temperature first and then lowering it. I just don't love that method because I feel like it makes the outer crust cook too fast, even with a shield. So in this apple pie recipe the pie is baked for 60-70 minutes at 350 degrees F.
If you don't have a convection oven, be sure to bake the apple pie on the lower rack in your oven to ensure the bottom crust cooks before the top is too brown.
I always use a pie crust shield when I bake pies. It's critical to ensure the filling is cooked (even though the apples are pre-cooked in this pie) before the crust gets too brown! If you don't have a pie crust shield then you can cut out a piece of aluminum foil to fit around the outer edge of the pie.
If the entire top crust starts browning too quickly, you can cover it loosely (tent it) with foil to prevent further browning until the last 10-15 minutes of baking time.
Cool
This pie is best after it has cooled completely. I recommend letting it cool on a wire rack for at least 3 hours, preferably longer. It's a great pie to make the day before an event or holiday because it's even better the second day! The filling thickens as it cools and the crust hardens!
Serve!
Serve this apple pie with a dollop of fresh homemade whipped cream or a scoop of vanilla ice cream for the perfect fall treat!
Apple Pie Recipe: Ingredients & Substitutions
Here are some notes about the ingredients in this apple pie recipe, as well as possible substitutions.
Apple Pie Crust:
All-purpose flour. Pastry flour works well in place of all-purpose flour. For a gluten-free option, use a 1:1 all-purpose gluten-free flour, however you may need to adjust the amount of water accordingly.
Salted butter: Unsalted butter can be used in place of salted butter. For a dairy-free, vegan pie crust you can substitute vegan butter (like Earth balance) (which is what was used to make this dairy-free pumpkin pie)!
Sugar. I do not recommend omitting the sugar or replacing it! I don't bake with artificial sweeteners, so I can't speak to that, but if you try it let me know!
Sea Salt. I always recommend baking with pure sea salt. If you have iodized table salt, you may need to decrease the amount of salt.
Egg Wash (eggs & milk). this is optional! Heavy cream or half and half can also be used in place of milk. Or you can omit the egg and just use milk!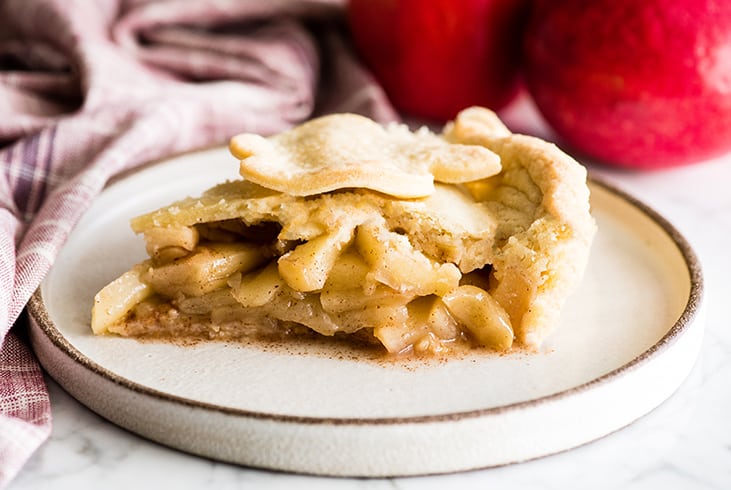 Apple Pie Filling Ingredients:
Apples. Choose your favorite apple variety, mine is granny smith!
Sugar. I like to use organic cane sugar in my baking, but regular granulated sugar works well too! You can substitute up to half of the granulated sugar with brown sugar for a more molassesy taste.
All-purpose flour. The flour is the binder in this apple pie recipe. You can use a 1:1 all-purpose gluten-free flour blend if you would like to! Cornstarch also works well!
Cinnamon. I like a big cinnamon flavor in my apple pie, and this one doesn't disappoint.
Nutmeg. This is optional but recommended for an extra layer of spicy flavor!
IF YOU MAKE SOMETHING FROM JOYFOODSUNSHINE I WOULD LOVE TO SEE YOUR CREATIONS! DON'T FORGET TO RATE THIS RECIPE AND LEAVE A COMMENT BELOW! ALSO, FOLLOW ALONG WITH ME ON INSTAGRAM, PINTEREST, FACEBOOK, YOUTUBE AND TWITTER FOR MORE RECIPE INSPIRATION AND A GLIMPSE INTO OUR EVERYDAY LIFE!
Best Apple Pie Recipe from Scratch
This is truly the best Homemade Apple Pie recipe ever! Its flaky, buttery crust is made from scratch, & the apple filling isn't overly sweet, letting the flavor of the apples really shine! Plus this apple pie is easy to make, with only a handful of simple ingredients! Serve it warm with vanilla ice cream and you will be in dessert heaven!
Instructions
Make the Crust:
Place all pie crust ingredients in the order listed into a food processor fitted with an "S" blade process for 15-40 seconds, or until the mixture resembles a coarse meal and holds together when pinched.

Remove dough from processor (it will be crumbly), transfer it to a large bowl or flat surface, and form into two, equal-sized round discs.

Wrap both discs of dough in plastic wrap and refrigerate for at least 60 minutes or overnight.
Make the filling:
Place the peeled and cored apples in a microwave safe dish and cook for 6 minutes, until apples are slightly soft.

While apples are in the microwave, in a small bowl, mix together sugar, flour cinnamon and nutmeg.

Once apples are finished cooking in the microwave, put them in a colander to drain excess water. Let them cool in the colander for at least 10 minutes.

Transfer cooled & drained apples to a bowl, add dry ingredient mixture and stir until it's evenly distributed.
Putting it all together:
Preheat your oven to 350 degrees Fahrenheit.

Remove crusts from refrigerator and roll into circles, about ¼ to ½ inches thick. (you may need to let them sit on the counter at room temperature for 5 minutes, or until it rolls a little easier).

Gently place one round crust into pie plate, forming it to look how you would like!

Pour filling into unbaked pie crust.

Place second crust on top of the apple pie filling and shape the edges. Cut 4 slits in the top to vent steam.

Place a pie crust shield or aluminum foil over the outer crust of the pie to protect it from burning. Remove shield in the last 10-15 minutes of baking if it doesn't begin to brown under the shield)

Bake the pie on the middle/lower rack in the preheated oven for 60 minutes or until the filling begins to bubble and the top is lightly browned.

Let cool for at least 3 hours and dig in! The filling thickens as it cools.
Notes
How to prevent a soggy bottom pie crust: 
Be sure to use a colander to let the water drain out of your apples as they cool before mixing the dry ingredients into them.
Let the apple pie cool completely before serving. This will thicken up the filling and harden the crust. 
Do not add any excess water to the pie when you add the filling. 
Nutrition
Serving:
1
g
Calories:
338
kcal
Carbohydrates:
46
g
Protein:
4
g
Fat:
16
g
Saturated Fat:
10
g
Cholesterol:
54
mg
Sodium:
336
mg
Potassium:
149
mg
Fiber:
3
g
Sugar:
21
g
Vitamin A:
549
IU
Vitamin C:
5
mg
Calcium:
23
mg
Iron:
2
mg
More delicious Apple recipes:
This post contains affiliate links, which means that if you purchase a product through a link you clicked on here, I receive a portion of the sale. Thank you for supporting JoyFoodSunshine!