Baked Black Bean Sweet Potato Veggie Burgers are a healthy meatless main dish. They are vegan, gluten-free and freezer-friendly - perfect for meal prep.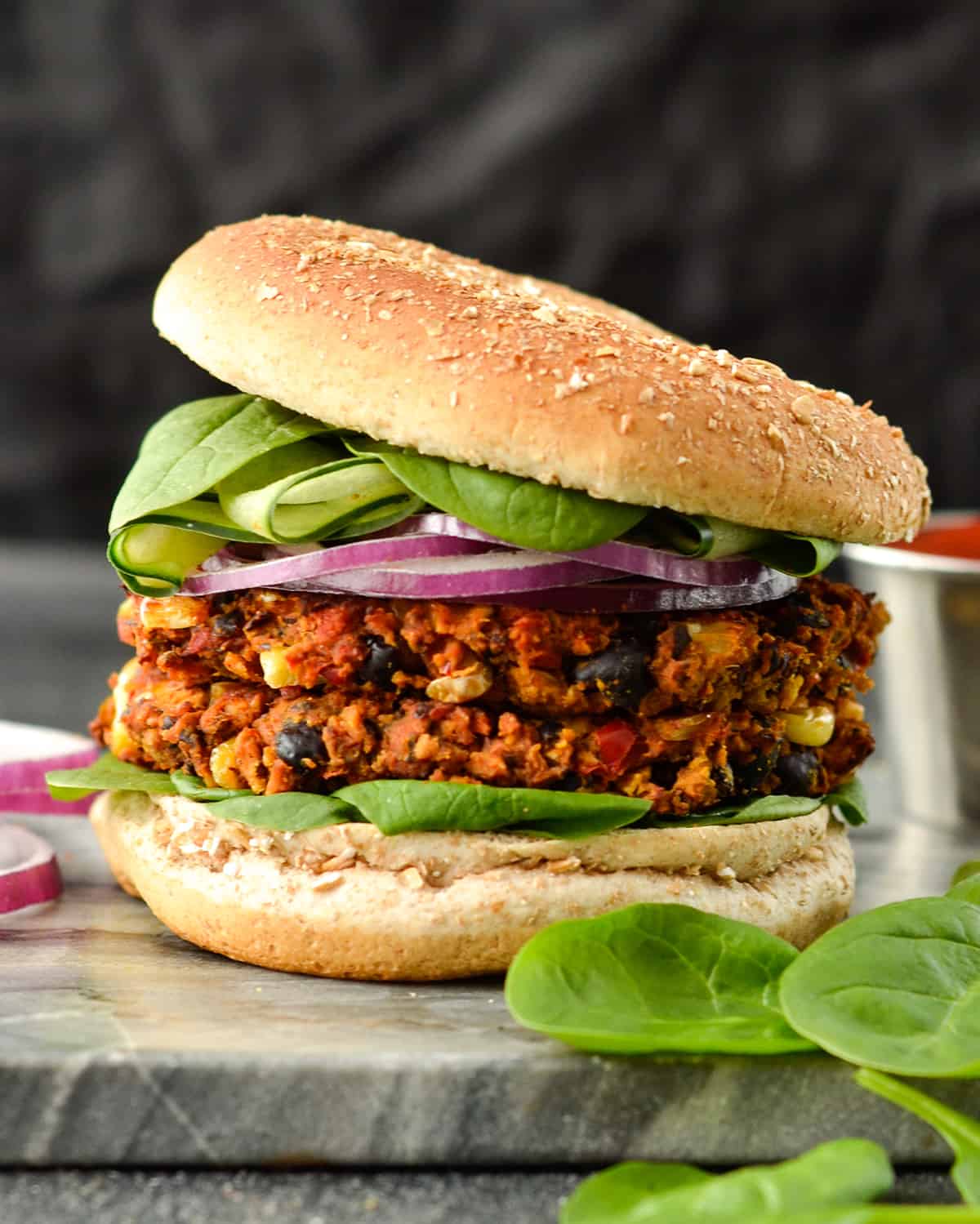 Say hello to a delicious plant-based, nutrient packed, homemade veggie burger!
These Baked Black Bean & Sweet Potato Veggie Burgers are one of my favorite meatless meals. I'm an herbivore living amongst carnivores So on the nights when we grill meat, you will usually find me enjoying one of these homemade black bean veggie burgers instead (on a homemade burger bun, of course).
These Baked Black Bean & Sweet Potato Veggie Burgers are healthy (vegan & gluten-free)! They're jam-packed with protein, fiber and nutritious vegetables! Plus they're freezer-friendly, making them the perfect cook once, eat for a week meal option!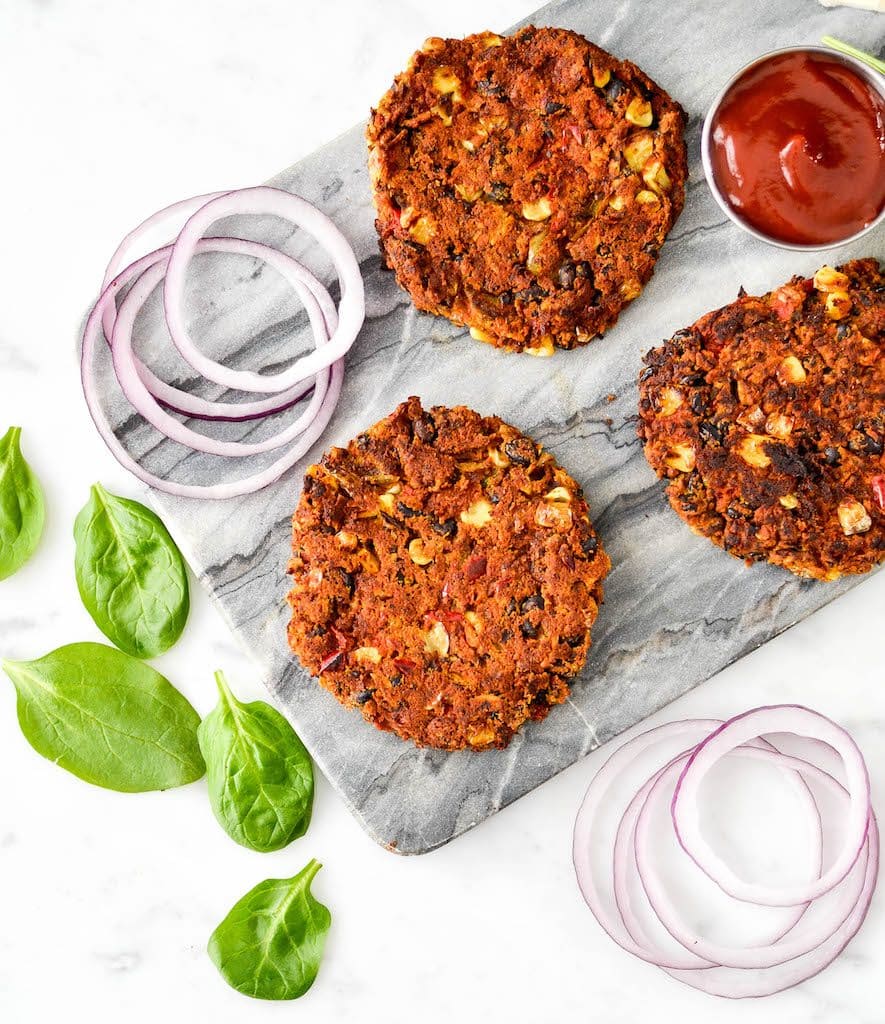 How to make homemade Black Bean & Sweet Potato Veggie Burgers
1. Grease the pan generously
These homemade veggie burgers are baked, which I love because you can knock out an entire batch in one fell swoop! It's important to generously grease the baking sheet with olive oil or cooking spray to prevent sticking. Then, before it's time to (very carefully) flip them, spray the side that is facing up with oil or cooking spray to doubly ensure they won't stick to the pan.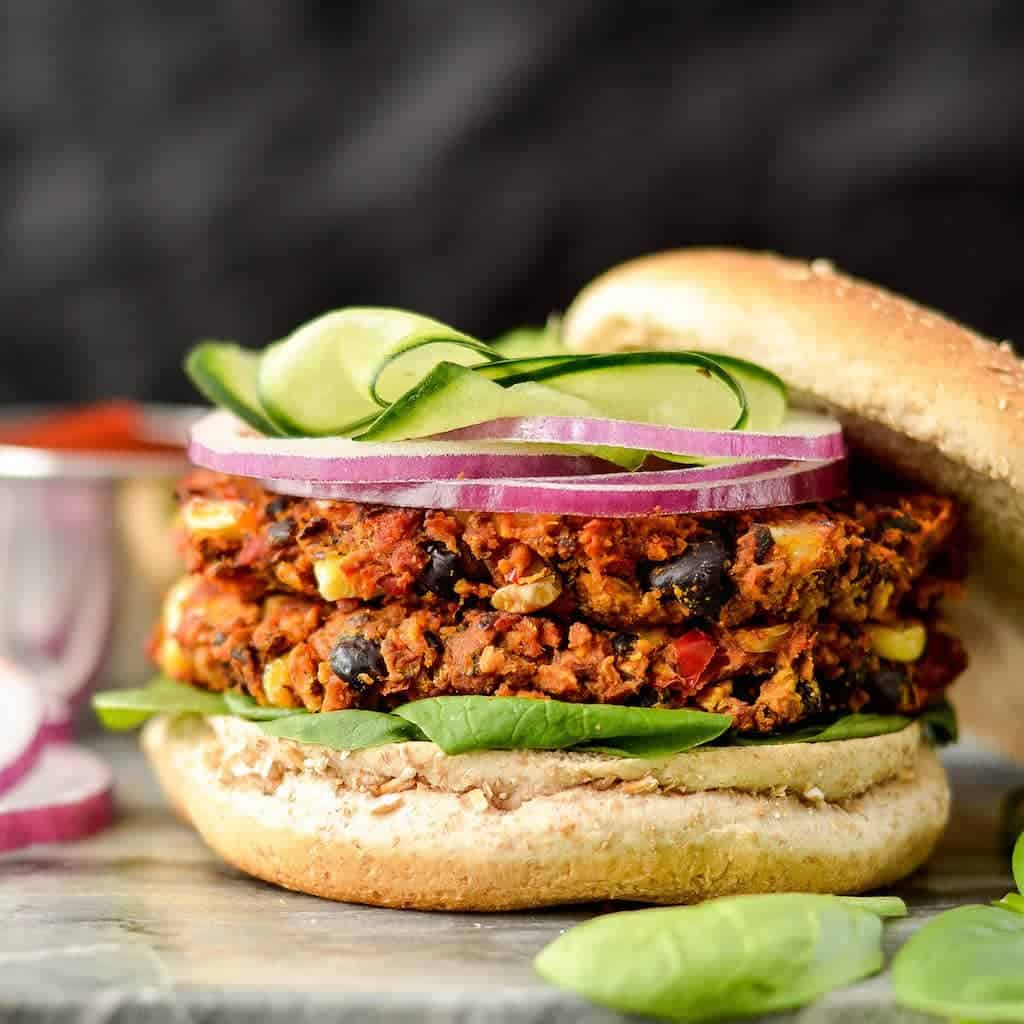 2. Bake
I do not recommend cooking these Black Bean & Sweet Potato Veggie Burgers on the grill, because they will almost definitely fall apart! If you are trying to avoid the oven, sauté the veggie burgers in olive oil over medium-high heat for 4-5 minutes per side (or until golden brown).
3. Freezing Veggie Burgers
Once the baked veggie burgers are completely cooled, layer them on a baking sheet lined with wax paper and pop them in the freezer.
Once they're frozen, put them in an airtight container and presto...you have lunch for the whole week! To reheat, either warm in an oven preheated to 350 degrees F for 10 minutes or in the microwave on high for 1 minute!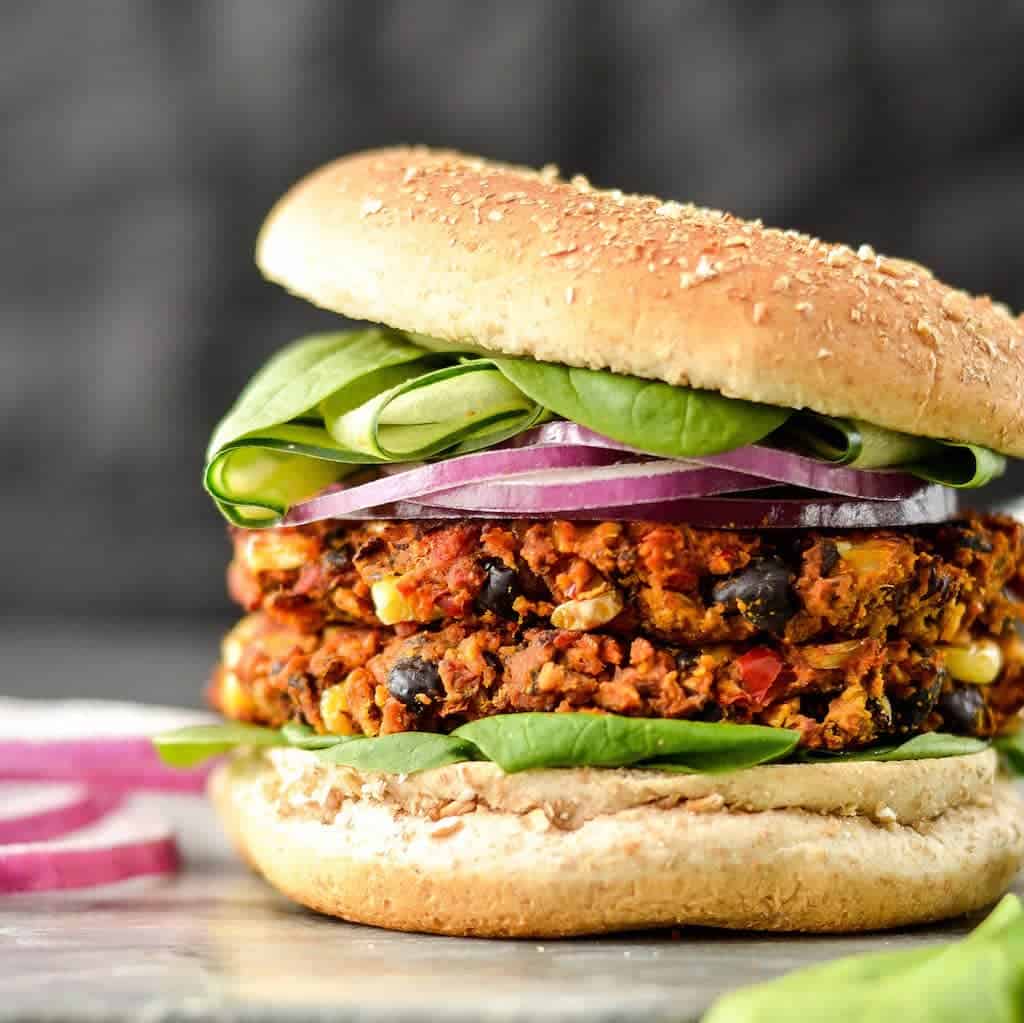 Black Bean Sweet Potato Burgers: Substitutions
One of my favorite things about these veggie burgers is how customizable they are! Like I said before, it's a great"clean out the veggie drawer" recipe!
Veggies
I've written the recipe with my favorite combination of vegetables, but you can substitute the peppers and corn for your faves! I have used finely diced carrots and peas with great success! I'd recommend keeping the overall amount the same if you change the type!
Spices
Again, I've included my favorite blend of spices, however feel free to customize to your tastes! If you don't keep Italian Seasoning on hand, dried oregano or basil is a great substitute! I am slightly obsessed with coriander, so I recommend not skipping it! 😉
Oats
Any type of oats (quick cooking, old fashioned, etc) work in this recipe because they are blended in the food processor. Please do not leave them out, they're necessary to help the veggie burgers hold together!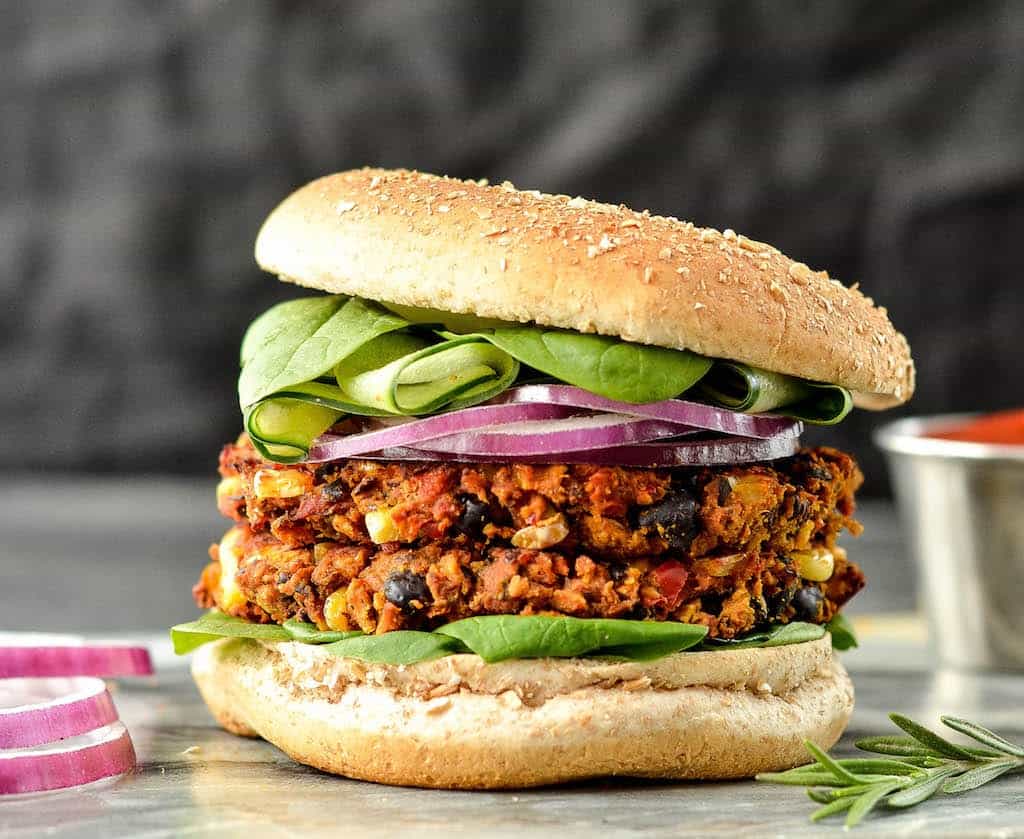 If you make something from JoyFoodSunshine I would love to see your creations. Follow along with me on Instagram, Pinterest, Facebook, Twitter and Youtube. Tag me in your photos #joyfoodsunshine @joyfoodsunshine Don't forget to rate this recipe and leave a comment below.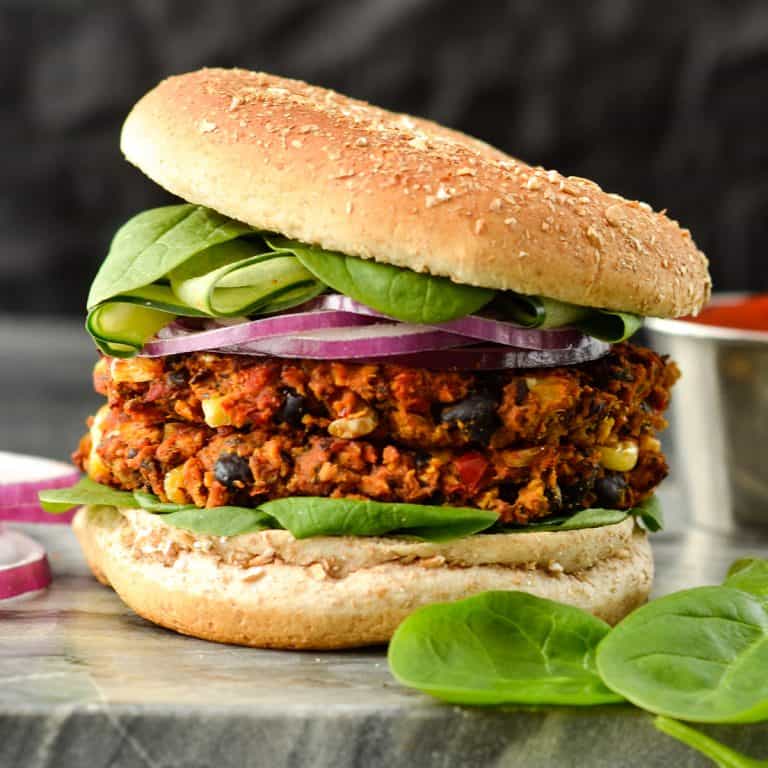 Black Bean Sweet Potato Burgers
Baked Black Bean & Sweet Potato Veggie Burgers are vegan, gluten-free and freezer-friendly! The perfect make-ahead meatless main dish!

Instructions
Prepare mashed sweet potato by roasting 1 small potato at 400 degrees F for about 1 hour or until soft.

Finely dice peppers using a food processor.

Add peppers and olive oil to a non-stick skillet and sauté until soft (about 5 minutes).

Turn off heat and add corn. Stir until combined. Set aside to cool.

Place sweet potato and half of the beans (about ¾ cup) to the food processor fitted with the "S" blade.

Process for about 15 second or until combined.

Add oats and spices and process until combined.

Transfer processed mixture to a medium bowl.

Add cooled veggies and the other half of the beans and mix well. Taste and adjust seasonings if needed.

Grease two large baking sheets.

Measure out ¼ cup of the mixture and form into a patty on the prepared baking sheet.

Repeat until all of the mixture is used, spacing about 1-2" apart (leaving room for flipping).

Bake at 400 degrees F. for 20 minutes.

After 20 minutes, spray the side facing up with cooking spray or spray oil. Very carefully flip and continue baking 15-20 minutes longer or until both sides are browned.

Remove from oven, let cool slightly and serve.
Notes
To freeze: let patties cool to room temperature, then place them in a single layer on a greased baking pan (or one lined with wax paper). Once they are completely frozen, transfer to a ziploc bag or airtight container. To reheat: Place in a warm oven (350 digress F) for about 10 minutes or until heated through. You can also microwave on high for 1 minute but the burgers will not retain their crispness if done this way.
Nutrition
Calories:
96.6
kcal
Carbohydrates:
19.4
g
Protein:
4.7
g
Fat:
0.7
g
Potassium:
312.3
mg
Fiber:
5.1
g
Sugar:
3.5
g
Vitamin A:
2570
IU
Vitamin C:
81.2
mg
Calcium:
20
mg
Iron:
1.4
mg
This post contains affiliate links, which means that if you purchase a product through a link you clicked on here, I receive a portion of the sale. Thank you for supporting JoyFoodSunshine!