Vitamix Stainless Steel Container – Review + Video
Posted Jul 08, 2020, Updated Sep 02, 2020
An honest and thorough review of the 48 ounce Vitamix Stainless Steel Container from an experienced Vitamix owner! Watch the video to learn all about the Vitamix Stainless steel Container, and what I think are the pros and cons of owning this Vitamix accessory!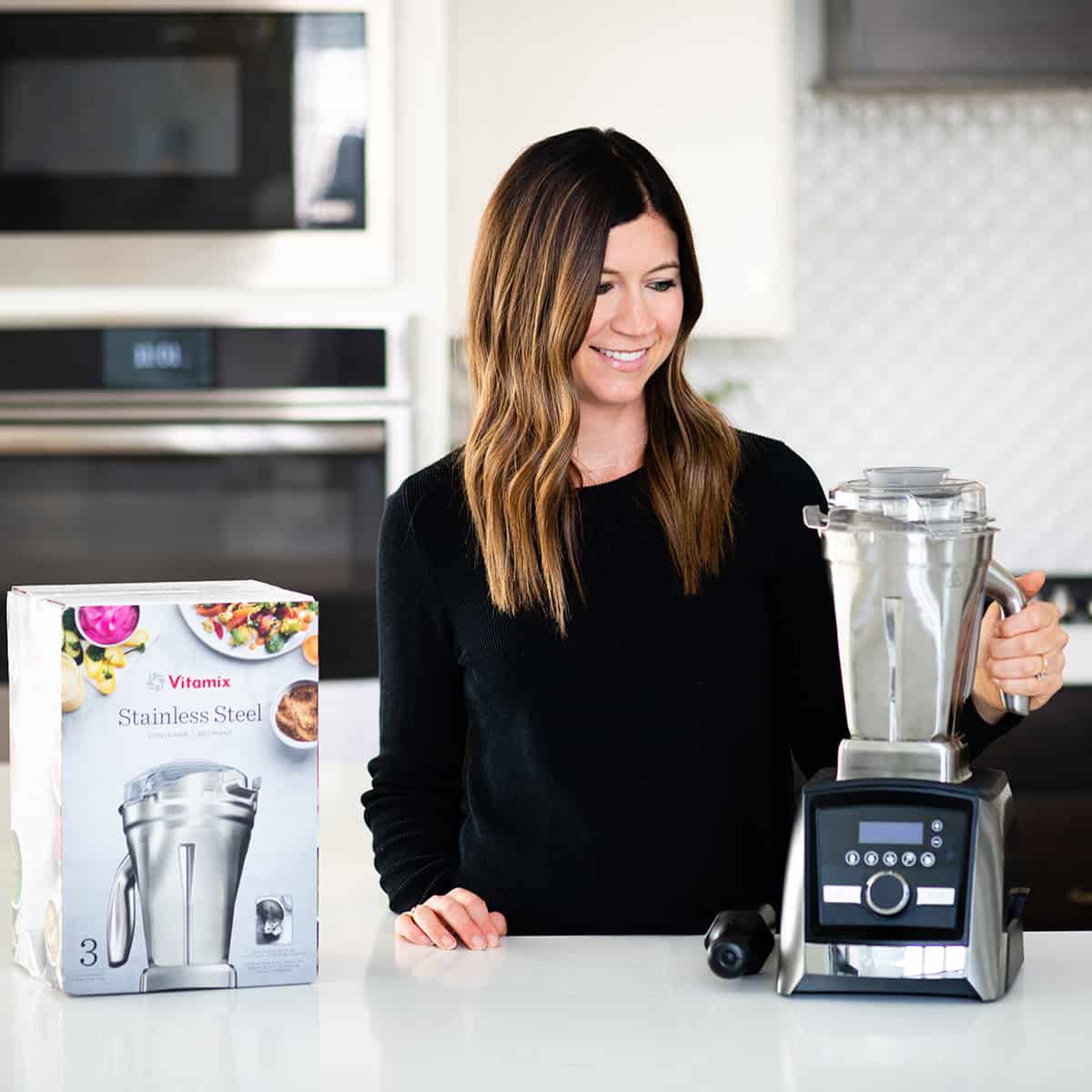 My friends at Vitamix sent me this new product – the 48 oz stainless steel container – to test out and review. This post is not sponsored, and as always, all opinions are completely my own!
You all know that I am fiercely loyal to my Vitamix blender. It's my best friend in the kitchen and I use it multiple times every day. I have been blending with Vitamix for over a decade now – long before I started this website and began a wonderful working relationship with the Vitamix team.
Because I have worked with Vitamix for 4+ years now, I own or have owned the majority of the blender models and accessories they sell. Ritch and I put together this comprehensive Vitamix buying guide explaining our favorite blenders and why we chose Vitamix 10 years ago.
But today, I want to talk about a long-awaited new Vitamix accessory just released by Vitamix – a 48 oz Stainless Steel Blending Container (Just released, $199.95). My friends at Vitamix sent it to me weeks before it's release, so I've had time to get to know the ins and outs of blending with it on many different machines to give you the 411!

So here we go. Let's start with some important information about the 48 oz blending container. I'll chat about the features of the container and the positives of those features. Then we'll move onto some things to keep in mind (or cons) when buying this container and then my recommendation!
Compatible with ALL full-size Vitamix blenders
Before you even consider buying this container you need to know if it is compatible with your machine! Thankfully, the 48 oz stainless steel container is compatible with ALL full-size Vitamix blenders, including classic and smart system blenders, which Is great news for all Vitamix owners!
If you have a classic blender, then you know that many newer accessories with Smart Detect technology are not compatible with those models. Well this stainless steel blending container has Smart Detect technology and works beautifully with classic blending systems!
3 year full warranty
As always, Vitamix stands behinds it's products. This Vitamix Stainless Steel Container has a full warranty for three years!
Handles a wide range of temperatures
One of the best features of the stainless steel container is that it can handle really cold and really hot temperatures really well. My smoothie stayed super cold (I actually had to add a touch more liquid than usual because of how cold the ingredients remained during blending) while soups can get piping hot! Just remember to use oven mitts to handle the container if you blend a hot recipe.
Size
This could be a pro and a con, but for me it's definitely a pro! Most blenders come with a 64 oz blending container. I'm very glad to have a smaller, 48 oz, container that is compatible with my Ascent machine. When making smaller batch recipes like basil pesto, homemade peanut butter or almond butter or homemade fruit snacks, having a smaller container makes blending so much easier!
Durable & non reactive
It Is built really well, very hearty and durable. It's heavier than the classic bending containers, but not too heavy to handle comfortably.
Easy to clean/dishwasher-safe container and lid
It's incredibly easy to clean and both the lid and the container are dish-washer safe!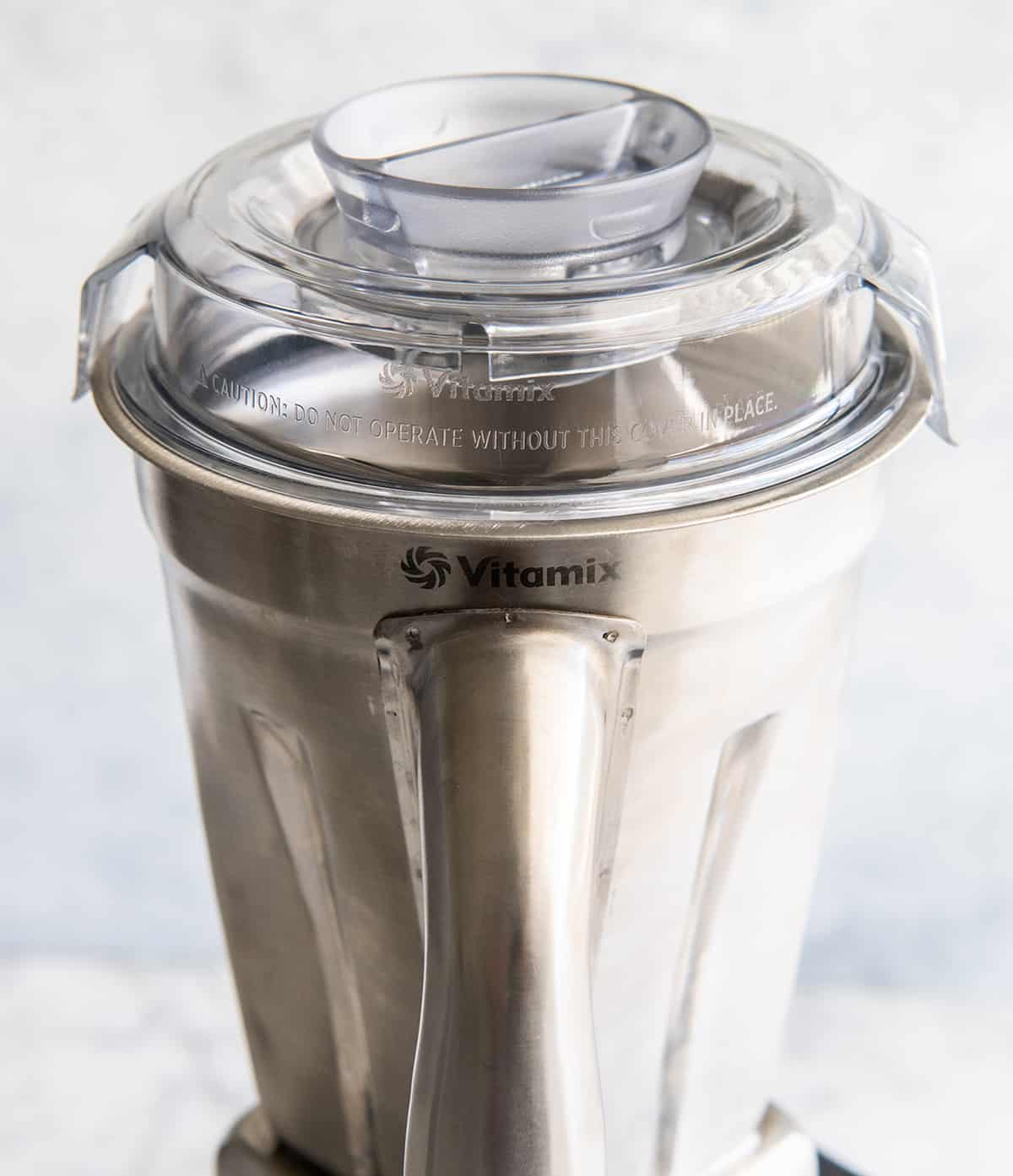 Odor and stain resistant
If you've owned a classic blending container for a few years you know they can become cloudy if not cleaned properly or often enough. It can also get slightly stained when blending warm colored foods like carrots.
Well this stainless container is odor and stain resistant, so we can say goodbye to cloudy discolored containers once and for all. Here is a humility-inducing photo of my current, well-used and not very well-cleaned classic blending container. As you can see it's cloudy and dirty. Time for a bath!
Clear, BPA free lid
At first I wondered why there wasn't a stainless lid as well. But after blending with this container a few times I realized that since the container itself is opaque, the clear lid is key to being able to see the progress of your blend.
Cons
There were a few features of the stainless steel blending container that are worth noting if you're seriously considering purchasing one.
Opaque Container
If you have been blending with Vitamix for a long time and are used to being able to see the progress of your blends through the clear container, this will likely be an adjustment for you as it was for me. It's something that is easily overcome, but definitely took me a few uses to get used to.
Sharp bottom edges
The only feature that was a tad bit concerning to me was that the bottom edges were a little sharp. Like, I wouldn't want to slide it along my skin (not sure why I would do that in the first place…haha)! My husband remarked on this many times, it was a bigger deal to him than it was to me, probably because I can't remember ever spending a lot of time touching the bottom of my blending containers! 😉
Price
This container is very comprable in price to the other Vitamix blending containers, coming in at $199.5. For some, if you purchase a budget Vitamix around $250 the container is almost as much as the blender + original container. So the price is definitely something to consider.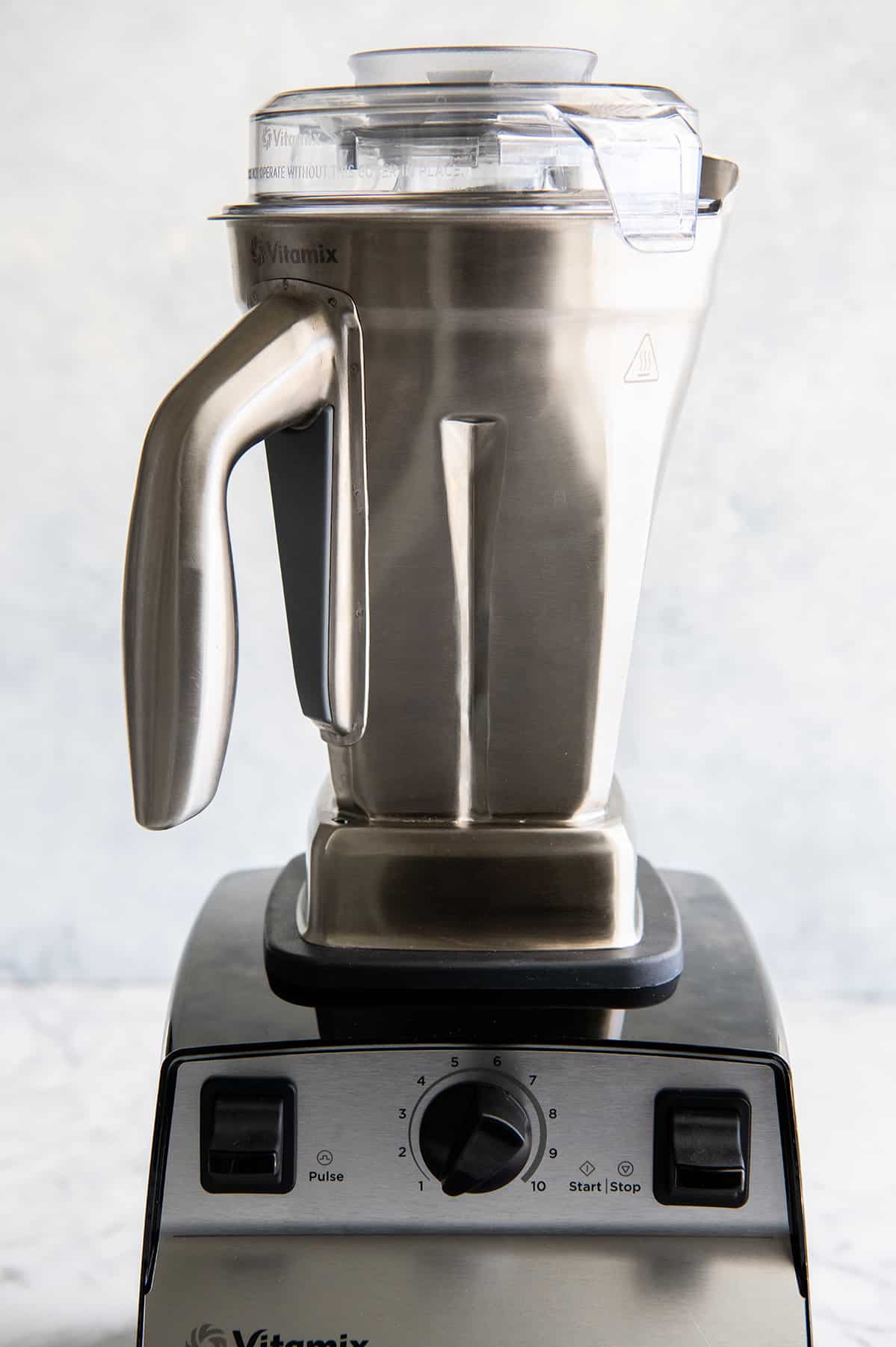 Just because I think it's helpful, I'm going to show you how this 48 oz stainless steel container compares to the other standard containers.
Internal Measurement Markings
This is just an important feature to note. The clear blending containers have measurement marks on the outside, since they are transparent. The stainless container has the marks on the inside. They are not etched into the metal, which makes me a little nervous about them wearing off after significant use, so if I notice that I will report back here. But so far they have held up beautifully!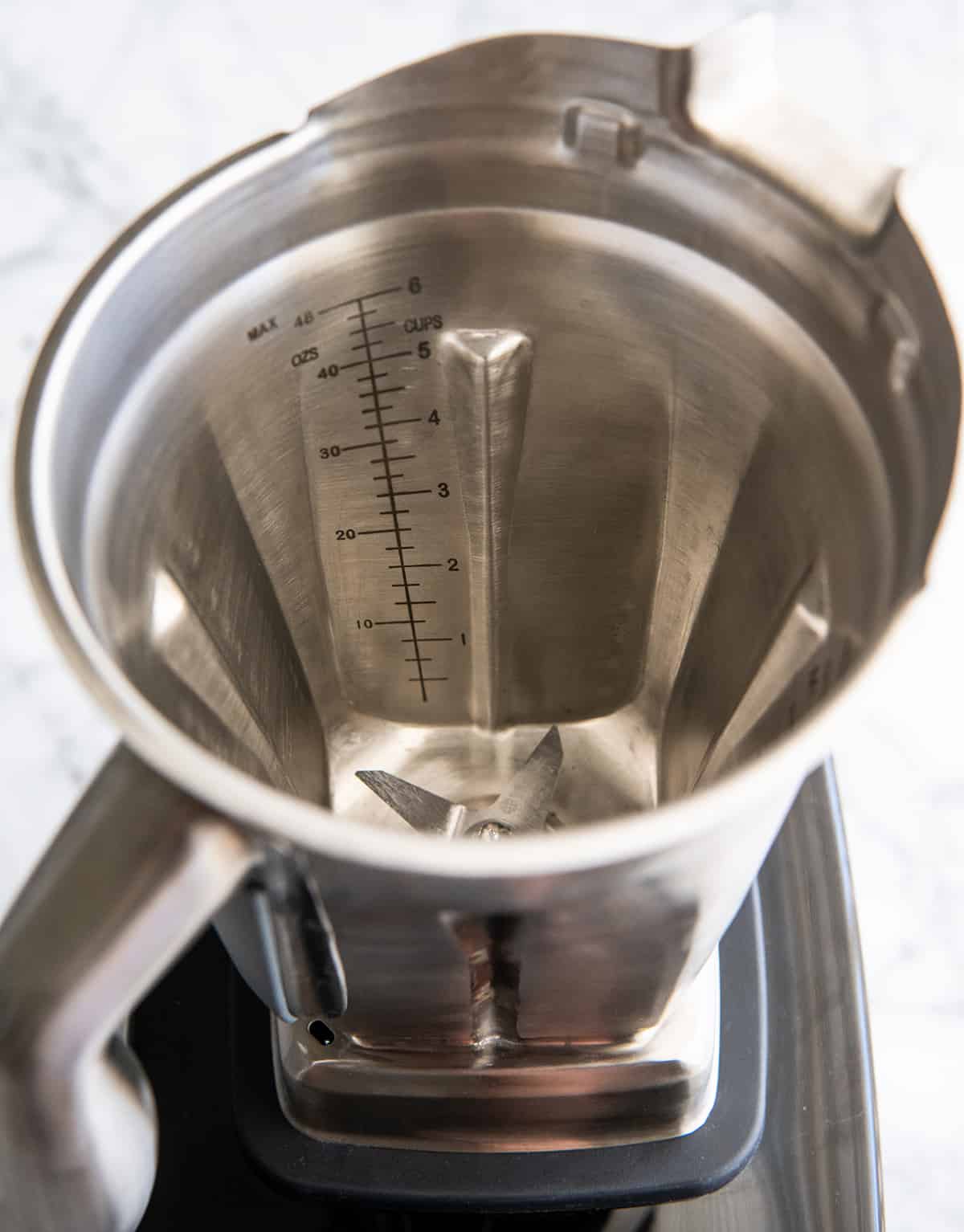 64-ounce Low-Profile Container
The obvious difference here is the size. The 48 oz container is smaller than the low-profile 64 oz containers that come with many machines (like the Ascent series, 780, E320, etc.).
The base is also more narrow in the 48 oz stainless steel container, which makes it easier to blend small batch recipes!
The stainless container does have self-detect technology, which the classic low-profile container (not pictured here), does not.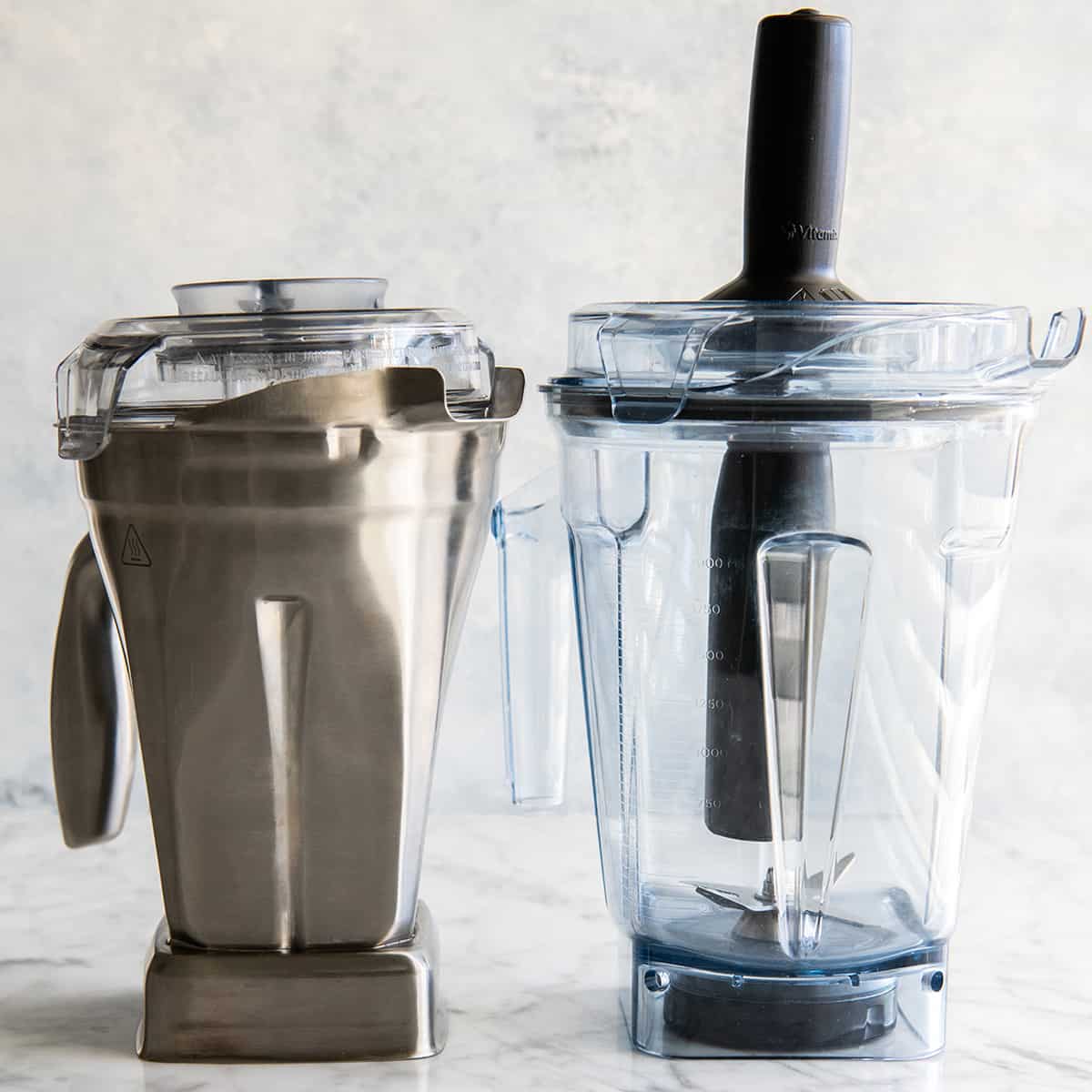 These two containers are very comparable in both size and function. I do prefer the clear top on the stainless container because it snaps on with a "click!"
Tampers
Pictured below are the Low Profile Tamper (comes with low-profile containers), the S2 Low profile Tamper (comes with Stainless Container) and the Mini Tamper (come with 48 oz container). As you can see, the two low profile tampers are about the same size, and vary only slightly in their shape. They can both be used in the stainless container with no issue.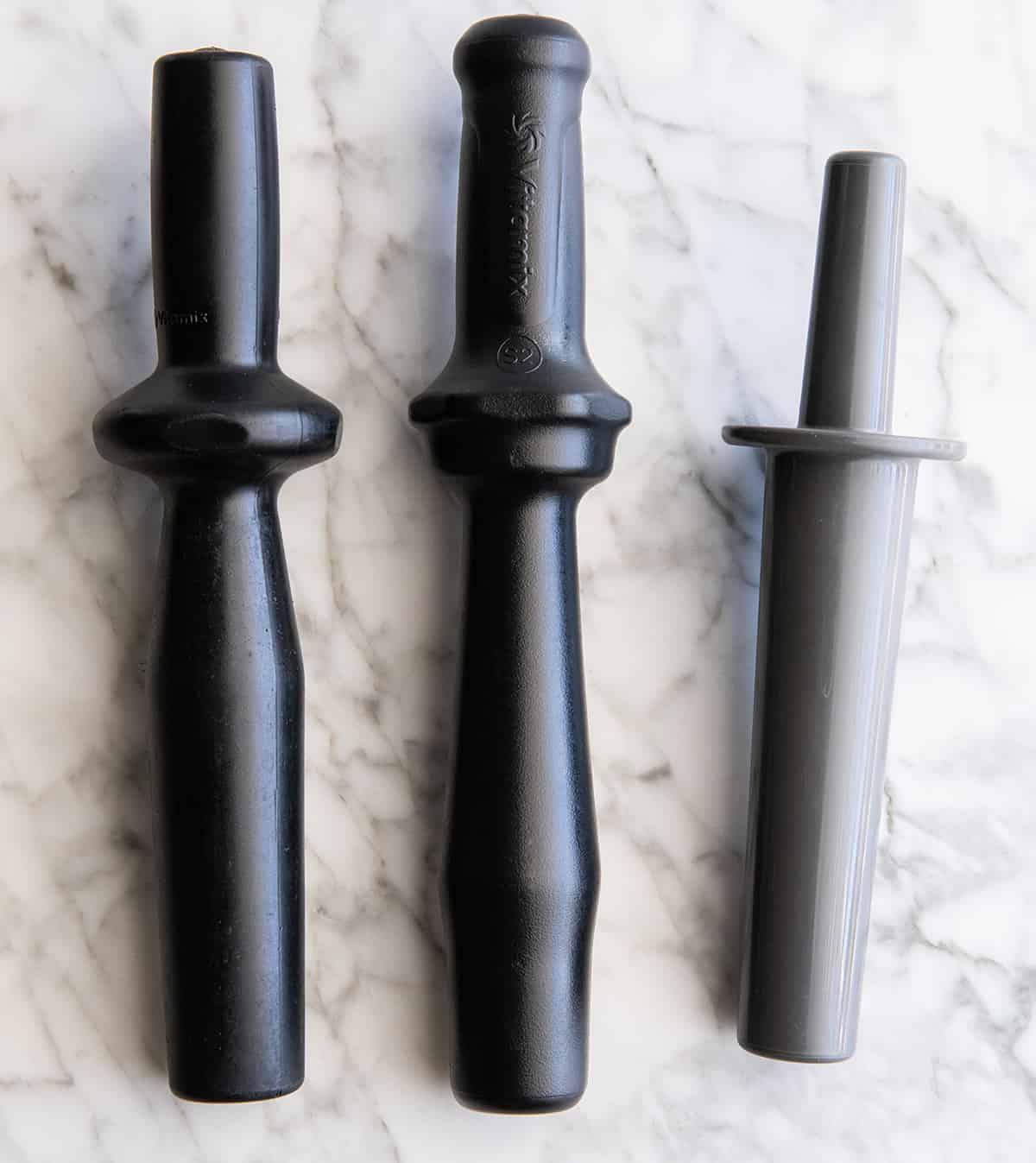 My recommendation
Ok, now onto what I really think about the Vitamix Stainless Steel Container! I personally blend with the Ascent 3500 every day and am a serious Vitamix owner! I make many, many recipes in my Vitamix and legitimately don't think I could live without it in my kitchen.
The reason I say all this so you know where I am coming from when I give my recommendation. I am not a casual Vitamix blender, I use it all the time.
I would buy it.
If I wasn't sent this Stainless Steel Container by my friends at Vitamix it would probably go on my birthday or Christmas list this year. It has enough unique features and benefits that it has earned a prominent place in my Vitamix blending regimen. The main reasons I would choose to purchase this is:
I value having multiple blending containers. I often blend multiple components of a recipe or meal back-to-back, so having an extra container (or in my case, multiple extra containers) is helpful and convenient.
Size. Until now I did not have a smaller container compatible with my Ascent machine. If I needed to blend a smaller batch recipe I would pull out my Explorian E-310 blender with the 48 oz container. Now that I have this 48 oz stainless steel container I can blend small batch recipes with my Ascent – and I love that.
Temperature capability. I often make very cold recipes (like smoothies) and very warm recipes (like soups and hot chocolate) in my Vitamix. I have tried both warm and cold recipes in the stainless steel container and it's amazing how cold and how warm recipes can get!
It won't replace my 64 oz container.
Even though I use it quite often, this stainless steel container hasn't replaced my 64 oz low profile container. Because we have a large family, I often blend large batches of recipes in my Vitamix. So the 64 oz container is still my go-to when I'm whipping up something yummy.
Looking for more Vitamix inspiration?
You have to check out my comprehensive Vitamix review of many different models. I also explain why we chose Vitamix over a decade ago.
I have so many Vitamix Recipes on my site. Here are some favorites…
IF YOU MAKE SOMETHING FROM JOYFOODSUNSHINE I WOULD LOVE TO SEE YOUR CREATIONS! DON'T FORGET TO RATE THIS RECIPE AND LEAVE A COMMENT BELOW! ALSO, FOLLOW ALONG WITH ME ON INSTAGRAM, PINTEREST, FACEBOOK, YOUTUBE AND TWITTER FOR MORE RECIPE INSPIRATION AND A GLIMPSE INTO OUR EVERYDAY LIFE!
This post contains affiliate links, which means that if you purchase a product through a link you clicked on here, I receive a portion of the sale. Thank you for supporting JoyFoodSunshine!